Society for Folk Arts Preservation, Inc.

Sample Photos
| Welcome | Statement | Projects | Sample Photos | Our Founders |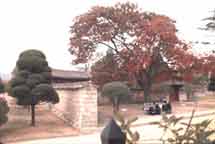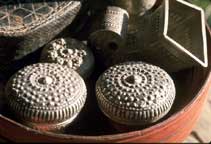 Vase by Tatzuzo Shimoaka, Mashiko, Japan; Korean park; Thai silver.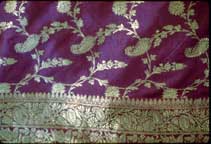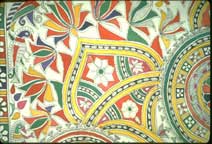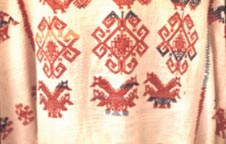 Silk and gold brocade sari from Varanasi, India; Detail, traditional painting from Mithila, India; Woven shirt from Mexico.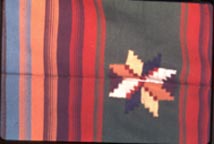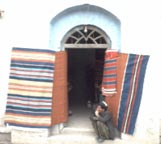 Mexican woven blanket; Afghan storefront.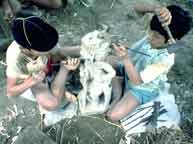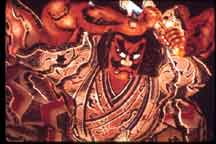 Stone carvers in Bali, Indonesia; Nebuta float, Northern Japan.

Sample photo essay collections include:
A. Japan: 1. Japanese Ceramics: Mashiko, Arita, Karatsu, Hagi, Tamba. 2. Straw. The Making of a Toy Horse. Magome. 3. Textiles: Noren, Yuzen, Bingata, Ikat, Brocades, Shibori. 4. Spatial Arrangements. Gardens. 5. Paper: Tanabata Streamers, Kanto Lanterns, Fans, Nebuta Floats. 6. Toys, Kites, Masks. 7. General: People, Streets scenes………2,088 slides B. Hong Kong: 8. Toy Making. (Straw grasshoppers, colored dough.) 9. Chinese Paper Objects. Cuttings, Floats, Cremation objects 10. Hong Kong-General Street Scenes. 11. Chinese Shewan style pottery making. (A traditional dog.) Indonesia: 12.. Betjak paintings in Djakarta, Indonesia. (Rickshaws) 13. General Scenes. Bali, Djakarta and Jogjakarta, Indonesia. 14. Indonesian Batik Styles and Techniques. 15. Woven Indonesian Fabrics: Ikat in Tenganan. 16. Balinese Crafts. Carving, Altars, Lamak Offerings, Jewelry. 17. Jogjakarta. Wyang Kulit- Shadow Play puppets. 18. Balinese Ceramic Techniques. 19. Balinese Straw: Baskets. Roof Thatching. C. Thailand: 20. General Bangkok, street scenes. 21. Chiengmai Bronzecasting. 22. Hill Tribe Fabrics and Silver. Embroidery. 23. Umbrella and Papermaking. Kites. 24. Bamboo and Palm Leaf Packaging, offerings. 25. Carved Building details. Wagons. 25. Lacquer. 27. Containers. D. Burma: 28. General, People. 29. Pagan: Buildings, Ceramics, Markets. E. Nepal: 30. Katmandu : General, Bhaktipur, Patan. 31. Nepali Crafts and Tibetan crafts. F. Afghanistan: 32. Woven details, embroidery, wood carving, ceramics. G. Israel: 33. General 34. Coptic Tattooing, Jerusalem 35. Embroidery, Ceramics, Filigree. H. India: 36. Indian Wall Paintings. 37. The women painters of Mithila, Madubani, Bihar and the Warli women painters of Maharashtra. 38. India. General. People, buildings, scenes. 39. Architectural details in Agra. Stone inlay designs. 40. Fabrics of India. 41. Rural Crafts in India. 42. Terra-cotta styles of S, India. Indian Carved Temple Details. 43. Weaving in India. Benares Brocades, Pochampalli Ikat. 44. Block Printing in India. Gu jurat, Jaipur, Bagru, Lucknow. 45. Embroidery and Decorative Fabrics. 46. Wandering Entertainers, Rajastani Puppeteers. 47. Wood and Stone Carvings. I, G general: 48. Asian Folk Toys and Traditions. 49. Asian Textiles. 50. Asian Ceramics. 51. Uses of Paper: Kites, Umbrellas, Decorative cutouts. Mexico: 52. Mexican Popular Arts (Fabric, wood, ceramics ) 120 slides.
E-mail: info@societyforfolkarts.com Phone: 845 . 436 . 7314
| Welcome | Statement | Projects | Sample Photos | Our Founders |

| Weblinks |
---
All photography and written material copyright 2008 Kalika Stern and The Society for Folk Arts Preservation Inc.,
and cannot be reproduced in any manner without prior permission.